Install
Get the latest release of Blender at https://www.blender.org/download/ and install it.
Download The Grove's package and unzip it.
Inside you will find TheGroveAddon.zip – keep this second zip file zipped to correctly install it in Blender.
Launch Blender and open up your Preferences from the Edit menu. Switch to the Add-ons tab.
Click Install… Browse to TheGroveAddon.zip, select it and hit enter to install.
Scroll down the list of add-ons to find The Grove. Make sure that the checkbox is checked to enable the add-on. Click the little triangle to reveal more information and settings.
You can store your textures and twigs purchases anywhere you like, just let The Grove know where to find them.
Save your preferences to keep The Grove enabled next time you start Blender. In Blender 2.8 you can find Save Preferences in the hamburger menu in the bottom left.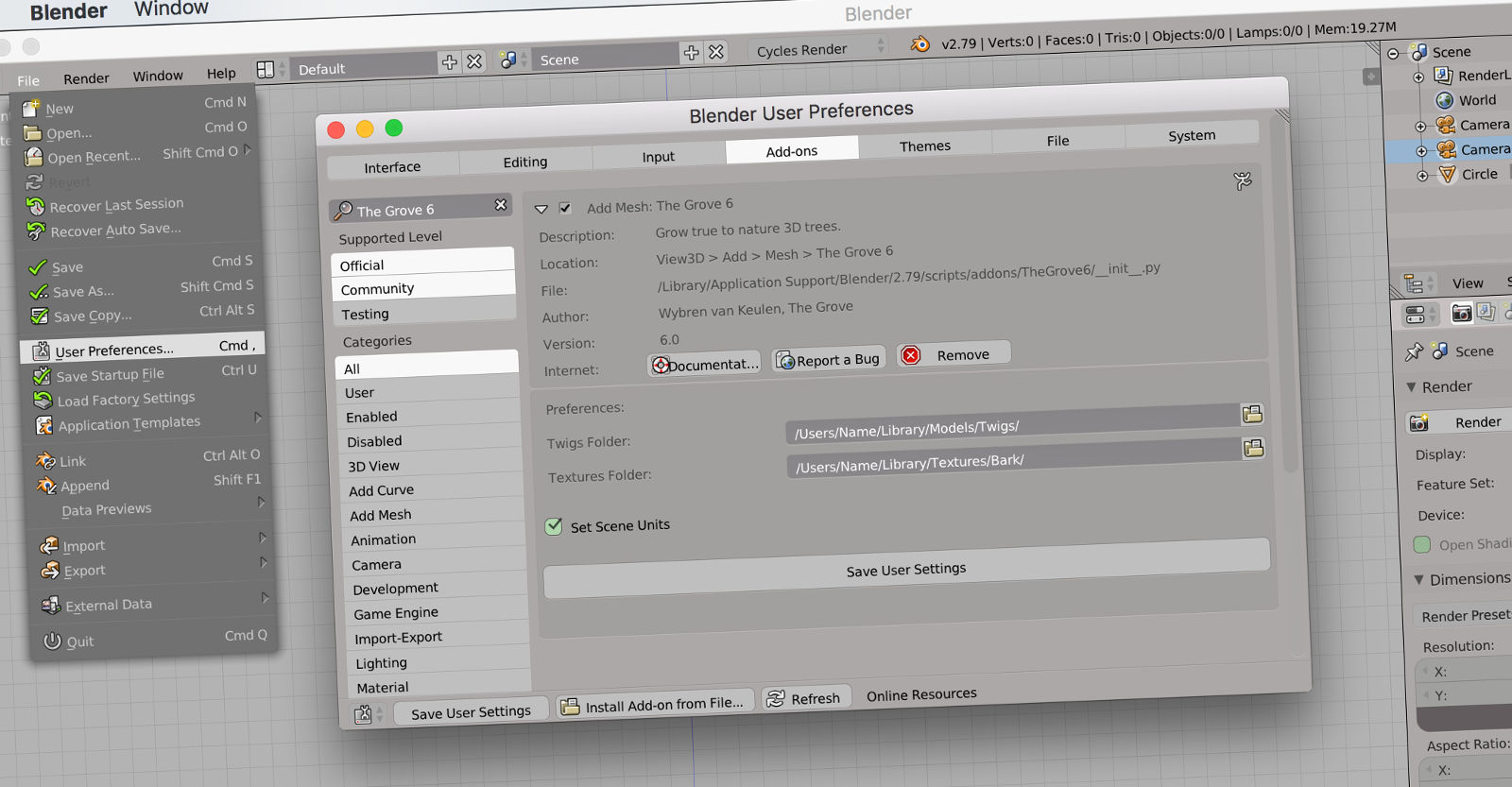 Check your installation
Close the Preferences window. Open up the 3D view sidebar from the View menu (or simply press N to toggle it). The sidebar opens next to the 3D view. Switch to the tab named "The Grove". Add a new grove and simply hit "Grow" to start and have fun growing!
Be sure to back up your downloaded copy of The Grove Add-on for the future. After installing an update of Blender, it might be necessary to repeat the above steps. If all went well, start growing with the Quick Start guide. If you have trouble installing, please let me know.
Common mistakes when installing The Grove:
Make sure you install the right zip file. It should be called TheGroveAddon.zip. If it's called TheGrovePackage.zip, you need to first unzip it.
If no bark texture shows up on your tree and it renders completely black, point The Grove to where you store your textures, you can do this in the preferences.
Twigs are listed in the twigs menu, the one that defaults to Scene Objects. Click it to pick a twig from your library. If the twigs are not listed in there, point The Grove to where you store your twigs from the preferences.
Set up Blender
The Grove's bark materials and twigs are created for the Cycles render engine. You may want to change Blender's default renderer to Cycles. This selection can also be saved to your startup file.